This Spring – Hiring CDL Truck Drivers, Equipment Operators and Laborers
Paving Company in Gallup, NM
Since 1975, Cecil B. Wilson Paving, Inc. has been a family-owned and -operated paving company, serving customers in Gallup, Red Rock, Mentmore, Gamerco, and McKinley County, NM and beyond. We specialize in commercial paving and asphalt striping for parking lots, school tracks and more. We also offer residential paving for new driveways, resurfacing and pothole repair.
Expert Paving and Resurfacing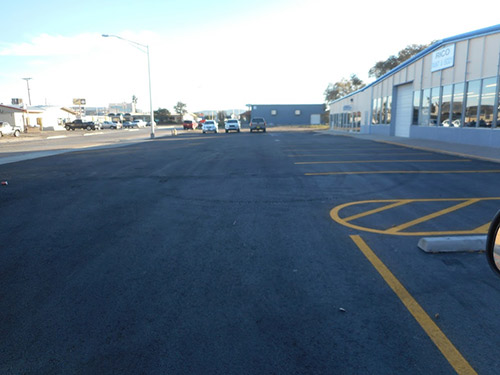 When your project involves asphalt pouring, paving, striping or resurfacing, Cecil B. Wilson Paving, Inc. is the premier contractor for the job. We have decades of experience as a full-service paving contractor in Gallup, NM, with abilities that ensure you're getting a surface that's paved to perfection. From parking lots to driveways, roadways to school tracks and beyond, we take pride in offering versatility and excellence to our customers, no matter the size or scope of their project. We even offer ADA-compliant striping that's vibrant and clean, for a finished aesthetic that's functional and appealing. Need to protect your asphalt through seal coating? We do that too!
In addition to being a comprehensive paving company in Gallup, NM, we're also your trusted provider of site prep services. We have the equipment necessary to provide excavation and grading services to developments of all types, both residential and commercial in nature. Give us a call for expert oversight when it comes to erosion control and land shaping—we'll gladly lend our expertise to your project. We even sell dirt for fill-ins and site work, with vehicles to safely and effectively haul materials. Take a look at just a few more reasons we're the foremost authority on paving and site prep in Gallup, NM and beyond:
We're a fully licensed business in the State of New Mexico (State License #50406).
Our services are available to residential and commercial projects of all sizes.
We're a family-owned and –operated business, serving Gallup, NM to Grants, NM and everything in between.
We're knowledgeable in ADA paving compliance.
Contact us for a free quote on your paving project today!
Paving to Perfection
Whatever your project calls for, know that we're here to help. Contact our paving company today for a free quote. We welcome projects of all sizes!
Cecil B Wilson Paving Inc is the Premier Paving Contractor & Grading Contractor in:
Gallup, NM
Grants, NM
Navajo Nation
Zuni Nation
McKinley County, NM
Cibola County, NM
Thoreau, NM
Church Rock, NM
Crownpoint, NM
Acoma Pueblo, NM
Black Rock, NM
Zuni Pueblo, NM
Naschitti, NM
Tohatchi, NM
Yah-ta-hey, NM
Rock Springs, NM
Standing Rock, NM
San Rafael, NM
Laguna Pueblo, NM
Milan, NM