When you have an asphalt project that demands a full scope of excellence in Gallup, Red Rock, Mentmore, Gamerco, and McKinley County, NM, Cecil B. Wilson Paving, Inc. is here to deliver. We cut no corners when it comes to delivering superior workmanship, and we take pride in being the go-to contractor for a full range of asphalt services, including:
Paving: Our paving contractors pour and pave asphalt to perfection, across projects of all sizes and scopes. We're adept at perfectly shaping your asphalt installation to ensure the final product meets your complete specifications and expectations.
Milling: Do you need to construct or replace an existing roadway, driveway, or parking lot? Ask us how milling can help you with recycling and repaving your existing area.
Sealcoating: Protecting your asphalt through sealcoating is a great way to maximize its longevity in the face of sunlight and heavy wear. Our sealcoating contractors work with paved areas of all sizes.
Patching/filling: Asphalt showing signs of cracking? Potholes developing? Our asphalt contractors will gladly come at patch/fill problem areas to extend the usefulness and safety of your paved area. We're also adept at asphalt resurfacing.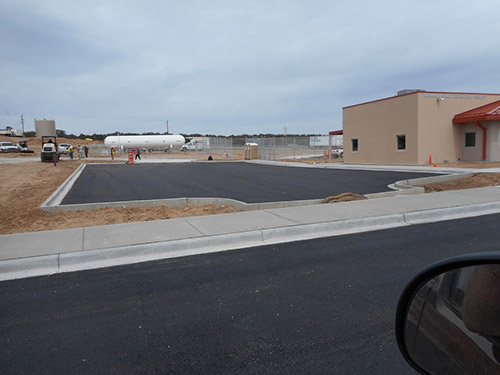 Whatever your asphalt needs may be, know they're covered by our team. We boast years of experience with asphalt resurfacing and a strong portfolio of completed work, to give you the peace of mind that comes with hiring a truly experienced professional.
Residential & Commercial
As a full-service asphalt contractor in Gallup, NM, we take pride in tackling projects of both a residential and commercial nature. No job is too big or too small for us, and our quality workmanship is part of every job we take on. Take a look at some of the most common projects we tackle:
Commercial
Parking Lot Construction
Private Roads
School Tracks
Residential
Driveway Construction
Building Pads
Residential Roads
Have an asphalt or grading and excavating project you need a quote on? No problem! Contact one of our friendly professionals today to discuss the scope of the job and potential quotes on work. We're available at 505-341-2751.