Proper site preparation is critical in ensuring a development project moves forward appropriately. Whether you're laying the foundation for a high-rise office building or simply clearing the way for a parking lot, it all starts with site prep—namely excavation and grading. Cecil B. Wilson Paving, Inc. is ready to be your premier grading contractor and provider of site prep services, no matter what plans you have for your land.
Our experienced excavation contractors in Gallup, Red Rock, Mentmore, Gamerco, and McKinley County, NM have years of experience under their belts when it comes to readying a site for development. Our chief focuses include the following: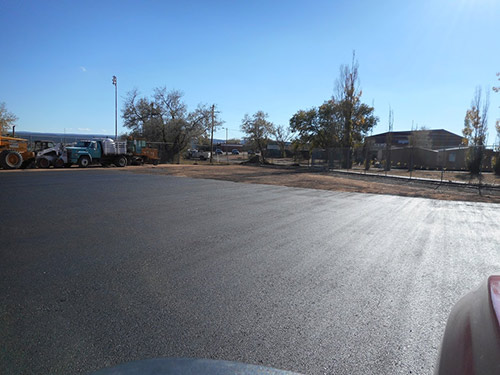 Excavation: Our excavation contractors are equipped with earth moving equipment that will make quick work of any excavation needs you may have. We work to ensure the land is thoroughly excavated based on your needs, so you can move forward with subsequent building prep phases. No excavation project is too big or too small!
Grading: Whether for erosion control or watershed logistics, we offer grading that's tailored for your specific jobsite. We can grade to any degree of incline you may need. Our experience as grading contractors includes grading for building developments, as well as roads and other municipal projects.
Site development: We can grade building pads and help facilitate the preparation of a site for foundation pouring. We work directly with developers to ensure this critical stage is achieved without setback.
Materials hauling: Not only do we take care of materials hauling, we also sell fill dirt to grade properties or fill in land around construction projects.
Riprap Rock: Are you located in an area that is prone to erosion? We specialize in the placement and usage of Riprap Rock to help protect your property. Ask our specialists about it today!
If you need a site prep specialist or grading contractor in Gallup, NM, there's no more complete provider than Cecil B. Wilson Paving, Inc. We're ready to consult with you about the size and scope of your project today. Contact us at 505-341-2751 for a free estimate on grading, paving, and more.